Aminocare Skin Cream Product Review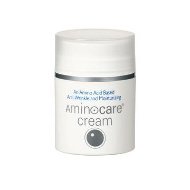 Skincare Product Review: AminoCare Skin Cream
I was initially very skeptical of AminoCare skin cream by Dr. Julian Whitaker but I am definitely giving it a positive product review. Dr. Whitaker says that "certain genes can be reset to help reduce wrinkles and make skin noticeably softer and smoother."
The secret to better skin is said to be a set of unique peptide triggers uncovered by a renowned pioneer in anti-aging medicine, Stanislaw Burzynski, MD, PhD. (Dr. Burzynski has also pioneered a revolutionary cancer treatment which has had remarkable results.)

When applied to the skin, a clinical trial of Aminocare showed significant wrinkle reduction in just 28 days. In addition, Dr. Whitaker makes the following claims:
Reduces the appearance, complexity, depth, and number of wrinkles
Improves texture of skin to create noticeably softer, smooth skin
Helps beat back years of skin aging from sun exposure and free-radical damage
Makes skin healthier and more youthful-looking
Restores hydration, moisture, and suppleness
Active Ingredients from Dr. Whitaker's web site:
"Peptide derivatives (from the amino acid L-glutamine): Natural peptides work to "reset" certain genes that may get out of whack as we age. When applied to skin, research shows that wrinkles are reduced and skin aging is slowed. The result is significantly healthier, more resilient skin.
Tamanu Oil— This "sacred oil" has been used by Tahitians for centuries to promote healthy, moisturized, and supple skin. In traditional medicine, it is believed to possess unusual skin healing properties. It restores hydration and suppleness naturally—no mineral oil, no preservatives, no additives, or unhealthy parabens.
Together, these skin savers restore smoother, healthier, dramatically younger-looking skin."
Okay, these are strong claims - but are they accurate?

My Results
At first I didn't notice anything different about my skin. I had the usual issues of fine lines and wrinkles around my eyes, some blotchiness and roughness to my complexion from acne scars from my teenage years.
After 4 weeks, I was about to give up and declare the skin cream ineffective. After the fifth week, though, I began to notice significant changes in my skin.
My skin had become softer and smoother - not just in the area around my eyes where the fine lines and wrinkles were appearing, but also along the side of my face where I had acne scars for many years. They were definitely less apparent. The texture of my skin was much smooter and firmer. I live in a humid climate, so it was difficult to tell if I was getting more moisture in my skin. But it did look much better.
My fine lines and wrinkles didn't completely disappear, but they became significantly better. The real suprise was the smoothness of my skin where the acne scars were located. Again, they didn't completely disappear, but they were much better.
When I compare this cream to the many others than I have tried over the years, this one ranks as one of the most effective. Dr. Whitaker sells this cream for $49.99 a jar and lasts me for 3 months (but I only use it once a day.) If you use it twice a day, it would be more like a 6 week supply.
Recommendation: This skin cream is a winner and I give it a positive skincare review! Be sure to give it 5 - 6 weeks of use to see the full results.
Read more about Dr. Whitaker's Aminocare Skin Cream