Facial Exercises - An Alternative To Plastic Surgery?
Just as exercising in a gym can firm up the body, facial exercises, or exercising the muscles in the face and neck can firm the face. According to Carolyn Cleaves, who developed Carolyn's Facial Fitness (CFF), as your muscles and connective tissue tone, your skin tightens up and becomes more resilient and elastic as well. Carolyn has developed a workout system for your face. She says why spend a lot of money on plastic surgery when you can tone and firm your face with regular exercises?
Carolyn says that her program can get rid of:
Bags and dark circles under the eyes
Double chins and sagging jowls
Wrinkled and sagging necks
Lines around the mouth, eyes and forehead
Hanging nasal fold lines
Tired look and papery skin
Learn more about why we age well with facial exercises.
Carolyn began her quest to find the most effective exercises at age 52 when she was beginning to see the signs of aging. She did extensive research to come up with her foundational fitness program for the face.

Learn more about Carolyn's Facial Fitness Exercise Program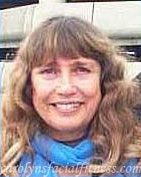 Carolyn at age 53 as she started her fitness program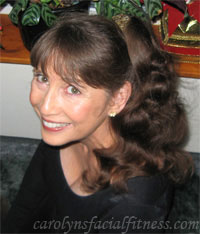 Carolyn at age 63
View Carolyn's interview on Australia's Today Show Why Do They Work?
Carolyn says "Another reason they are so effective is we contract the muscles first and slide across the skin, a technique used by Dr. Frederick Rossiter, M.D. It was the answer to getting a good-looking build. He has a little book called "Face Culture" he published in the 1970s. He says because the muscles go through the skin so that we can show facial expression, if you contract them first and slide across the skin you not only build muscle fiber but as you tone the muscles, you bring the skin up with it. It's muscle resistance training for the face at its best. "
View more before and after photos.

My Results
I had tried a similar program in the past with limited results. After speaking with Carolyn, I believed that it was worth trying her facial fitness program. What did I have to lose? Carolyn's basic value program costs $39.95 (her full program with additional exercises and a workbook is $67.95). It arrived as an instructional DVD that takes you through her 28 exercises. Once you memorize the exercises, it takes about 15 minutes to do them 5 days a week.
I have to say that I had been using a machine for a number of years with some success so I wasn't sure how much more Carolyn's exercises would help me. At first I didn't see much improvement, but I persisted faithfully. Then, after 6 months, I could tell a significant difference. (If you look at Carolyn's web site testimonies, though, you will find people that see results in a very short time.)
My forehead had lifted, giving me a "brow lift." This opened my eyes more. My bone structure seemed firmer and more sculpted. My skin also seemed firmer with less "slack." While it hasn't been as big of a change as a face lift would be, the changes have been significant enough that I have found it worthwhile and will continue the program. Also, it has only been 6 months as I write this review, so I am anticipating more changes as time goes by. In the future, I will update this review with additional information.
Updated Results: After a year of practicing Carolyn's facial exercises, I have noticed additional improvements including a firmer jaw line and a more "open eyed" look.

Here is a sample of Carolyn's facial exercises.
Some Last Thoughts: Give Carolyn's facial exercises a try! I have found that they make a difference if you are diligent. It only takes 15 minutes a day, 5 days a week (or fewer days a week, depending on your age). Also, Carolyn is available if you have questions regarding her method.
If you would like more information on Carolyn's Facial Exercise Program click here

View a sample facial exercise for addressing crow's feet