NailBuffs Review - A Nail Product That Works!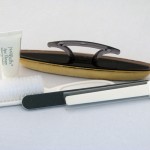 Here is a NailBuffs review about a product that works! Have you ever wished for a nail product that could transform dry, brittle nails into strong, healthy nails? Read on!
My nails had always been thin and brittle. I had tried everything on the market including supplements and nail products to strengthen my nails. Nothing worked very well. My nails looked like a dog had chewed on them even though I had never bitten my nails.
Then I came across NailBuffs on the internet. It's a nail product that claims to transform weak nails into strong, healthy nails. What did I have to lose?
The Products
Donna Taras, the developer and owner of NailBuffs, worked with a chemist for 2 years on a nonabrasive, non-toxic, vitamin enriched formula that would transform unhealthy nails into healthy and vibrant nails.
The basic NailBuffs products include a cream and buffer kit. Donna recommends buffing the cream into your nails at least twice a week. For really problematic nails, she recommends that the Deep Damage Nail Care Oil be rubbed into nails about once a week. In addition, NailBuffs has a nice cuticle cream that gave me soft, healthy cuticles. The cuticle cream improves the moisture balance, elasticity and strength of nails.
My nails were in such bad shape that I purchased the buffing kit, the oil and the cuticle cream. At Donna's recommendation, I used a drop of the oil under my nail tips nightly, and also rubbed a small amount of the cuticle cream into my cuticles. I also buffed my nails 2 or 3 times a week.
My Results
After one week I could see an big improvement in my nails. My nails became pink and glossy. After 3 months, I had substantial nail growth for the first time ever. A year later, I now have nicely manicured nails that, for the first time, extend beyond my fingertips! Also, I no longer need to get acrylic nails to get my nails to look good!
These wonderful products have been on the market for more than 30 years. It has been sold in Bloomingdale's as well as other department stores. It is also the recommended nail product at the famed Canyon Ranch Spa.
What is the secret to NailBuffs? Looking at the ingredients, I am guessing that the key ingredient would be the essential oils in both the cream and the oil. Also, the buffing seems to really create a beautiful shine on my nails as if I had on clear nail polish.
All I can say is that after many years of looking for a solution for my problematic nails, I know that I have found it and had to write a NailBuffs review. I only wish that I had known about these products years ago.
For more information, check out another NailBuffs review and other information on their web site www.nailbuffs.com